Your guide, Herman Fleishman, has been an avid fisherman his entire life.
Herman caug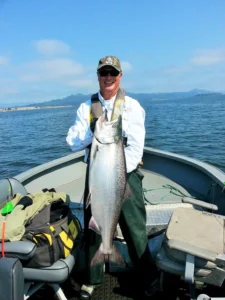 ht his very first Steelhead at age twelve. What began as a hobby in his teenage years, eventually became a passion. Growing up in the Pacific Northwest, Herman has fished in nearly every river from the lower Oregon border to the upper border of Washington, making him very knowledgeable about the very unique fishing conditions in this part of the country. In addition, Herman spent five years working as a fishing guide on the Chosen River in Alaska, and still occasionally makes it back to Alaska for a few weeks a year to enjoy their unique fishing.
After becoming very successful in the commercial finance field, Herman finally had the time, energy, and resources to share his passion with others. As a Coast-guard certified Operator of Uninspected Passenger Vessels (OUPV), Herman is licensed to carry up to six passengers on inland waters. Being CPR certified, bonded, and insured for your safety give you the reassurance of dealing with a professional. Herman's knack for being aware of the latest techniques, his commitment to using only top of the line equipment, and his patience and willingness to tailor each guided trip to the skill level and needs of his customers, give him his reputation as one of the top guide in the Pacific Northwest.
Year after year, Herman fishes in all four seasons, rain or shine, consistently catching the biggest and the best. His aim is to make every trip more than just another day fishing, leaving every customer with the experience of a real Northwest Fishing Adventure.
Book a trip with Herman today! Or, call him at 503-936-2757 for questions about booking a trip.